WHO I AM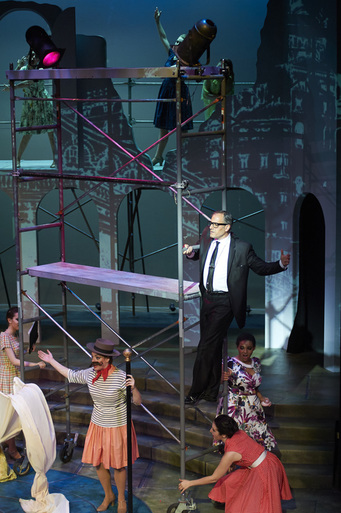 NINE, director, UP Stages, 2016
I'm an

actor

, director,
writer
, and teacher who's worked in film and theater with various companies regionally and in New York City. Recent stage credit sinclude
August: Osage County
at the Pittsburgh Playhouse and
Shining City
at Off the Wall Theater and recent film credits include the films
My Date with Adam, ​Abduction, All-Sight, Monongahela, Black Kerchief, Roses are Red
and
The Dark Knight Rises.
As a director and writer, my plays and productions have been produced Off-Off Broadway, regionally and internationally. Recently, my short romantic comedy screenplay
MY DATE WITH ADAM
won the
Steeltown Entertainment Film Factory Competition
and premiered at The
Three Rivers Film Festival in November
. Since then, the film has won Best Comedy Short in the High Desert Film Festival and has been an official selection of New Filmmakers LA, New Filmmakers NYC, The Boston Sci-Fi Film Festival, The Phoenix International Film Festival, 4th Annual Robot Film Festival, Landlocked Film Festival, and the Sci-Fi London Film Festival.
Off-Off Broadway, I directed the world premieres of Neena Beber's PART OF THE STORY at 29th Street Rep and Seth Kramer's
PRELUDE TO THIRTY-FIVE
. I also directed UNDERNEATH THE LINTEL at 12 Peers Theater in Pittsburgh and my own play W@ste at the Last Frontier Theatre Conference in Valdez, AK. In addition to directing my own plays, I also develop ensemble-based devised plays such as 7 MINUTES TO MIDNIGHT.
This script was nominated for a David Mark Cohen award and the production was honored by being invited to the regional Kennedy Center American College Theater Festival in Moscow, Idaho.
Most recently, I directed the musical NINE, and the classical plays DOG IN THE MANGER and AGAMEMNON for U
PStages in Pittsburgh
.
My plays HIPSTER IN LOVE and HALF FULL were recently included in the Bricolage Urban Sprawl Anthology of 10 Minute plays and
DISTANCE
and
DECOMPOSITION
are published by Original Works.
My play BURNING BOTTICELLI premiered in the 8th Annual New York Fringe Festival, starring Broadway's original "Gigi" and Mizuo Peck (A NIGHT AT THE MUSEUM). (Read the
review
here.)
Other plays include
DOG PARK OR SEXUAL PERVERSITY IN MAGNUSON
(
Theatre Schmeater
), LOVE & DEATH IN THE TIME OF CRAYOLA (Winner Best Play, Turnip Festival), HIPSTERS IN LOVE (
Bricolage Theater
), 7 MINUTES TO MIDNIGHT, PAINTING BY NUMBERS (Finalist, Samuel French Off-Off Broadway Festival), THE RAVEN FLIES NORTH (Finalist, Astoria Performing Arts Center Award), GREEN EYED MONSTER and LOVE'S LABORS LOST OR BENVOLIO IS ALIVE AND WELL AND LIVING IN THE BAHAMAS.
I'm a proud memberActor's Equity Association and
The Dramatists Guild of America, Inc
. and served as the first Regional Representative in Seattle from 2007 - 2010.
---