"Playwright Dennis Schebetta explores here the age-old frustration of every artist who searches for a "voice" to inspire them. This piece...is gorgeous,
Read the full
review
for Burning Botticelli, fringeNYC, 2004
"'Love, Art & Sexual Perversity' is bound to be one of the hits of the Rogue Festival 2011, so don't wait too long to get to this sharp and funny offering."

– King's River Life Magazine
review
for Love, Art & Sexual Perversity, Fresno, CA
CURRENT PROJECTS
SOLDIER SONG
Writer/Director. Stage production, October, 2016.
Soldier Song uses text, movement, gesture and music to examine the veteran and civilian relationship, particularly as veterans transition from deployment into civilian life. This ensemble-based performance will be be workshopped in October with a planned final performance date in Spring, 2017.
FILMS / SCREENPLAYS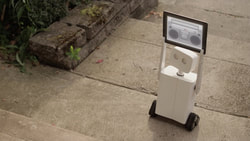 LOVE & ROBOTS
​Romantic Comedy, Feature Screenplay.

A roboticist invents an android to be the perfect man to use as an avatar to woo the woman he has been secretly in love with for years. But when his mentor hijacks the project for a military experiment, he must decide which is more important—his love or his rising career. When the woman discovers that her perfect man is an android, he may have ruined his one chance at winning the love of his life. Now he must win her back even if it costs him his future.

Official Selection Buffalo Dreams Fantastic Film Festival, 2014; Quarterfinalist Richmond Film Festival, 2015
---
MY DATE WITH ADAM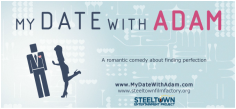 Writer/Director. Romantic Comedy, Short Film. Premiered at the Three Rivers Film Festival, 2013 and winner Best Comedy Short in 2014 for the High Desert International Film Festival.
​
www.mydatewithadam.com
A wedding planner uses internet dating to find Mr. Right but when she has a date with the perfect man, does he turn out to be too perfect, almost machine-like?
If you would like to view the film, please contact me and I'll send you the link.
Premiere Three Rivers Film Festival, 2013; Running time 12 mins.
---
TANGLED UP IN BOB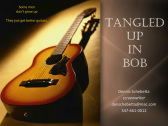 Some men don't grow up. They just get better guitars.

Full-length Screenplay. Comedy.

Deegan is ready to give up the dream of being a musician by marrying his pregnant girlfriend when his best friend Tweedy convinces him to go for one last gig—to drive to Hibbing, Minnesota and win the "Tangled Up in Bob" contest.

*Quarterfinalist in Bluecat Screenwriting Competition (as DYLANOLGY).


---
Plays
DOG PARK OR SEXUAL PERVERSITY IN MAGNUSON

A play written in the style of David Mamet for the Mamet Schmamet Festival. In Magnuson dog park, Jake the pug teams up with the older, wiser Duke, a great dane, to help Tiger, a young retriever, mate with Bambi, the poodle. Riffing on Mamet's dialogue, style and his famous plays American Buffalo and Sexual Perversity in Chicago, see how dogs relate when humans aren't watching.
(10 minutes, 3 Male, 1 Female, Unit set)
Published in
Ten 10-Minute Plays Volume III, 2010
; Originally produced by Theatre Schmeater, Seattle (2007).
Read the script online here.
---
DISTANCE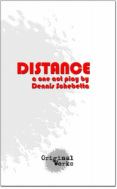 A play that interweaves the lives of five twenty-something's in NYC. Our narrator, Hugo, is an eccentric amateur astronomer who unfolds the tale of Scott, a budding writer, and his star-crossed relationship with Kate, a rising career-woman. They split up, but try to remain friends and roommates, each learning how to let go and move on. The play takes an off-beat and comic look at love, friendship, and physics.
(3 Male, 2 Female, Unit set)
Published by
Original Works Publishing
. Read a
script sample here.
---
BURNING BOTTICELLI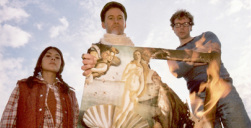 The Birth of Venus. The Bonfire of the Vanities. The Voice of God. Artists. Charlatans. Haiku-spouting parrots. Crucifixions. Death by fire. Just another day in the art world.
"Botticelli, Venus, a Monk, a Navajo woman, a conceptual artist, and a haiku-spouting parrot all walk into a bar…" sounds like the beginnings of a joke, but all those elements are mixed up in this eclectic look at the art world, both past and present. How does morality dictate our works of art? What is art? What is spirituality? Burning Botticelli explores the sacred and secular aspects of art, identity, inspiration and the artistic process by jumping back and forth through three different worlds— the mythical Navajo world in the Arizona desert, the Renaissance world in Florence, and the contemporary art world in New York. Of course, they all have something in common…don't they? (2 Hours, 8 Male, Female)
Produced by Amanda Dubois Productions and Present Company Theatre in the 8thAnnual New York International Fringe Festival (fringeNYC)
(Read the
script
)
---
W@STE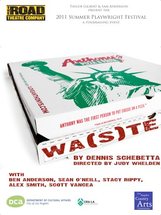 Set in a Capital Hill apartment in Seattle, it's the story of two guys and nothing. But not really nothing, like Seinfeld—it's nothing commenting on nothing. But no, wait, that's actually the screenplay they're writing. Or are they? Maybe they're only characters themselves. Maybe people are watching them. Maybe there's going to be a party. With the promise of tomorrow lingering under the rain clouds of today, Doug and Val waste time playing word and power games with each other. And then there's Paulie, the temp in the rumpled blue suit, who one day claims it's his apartment and the next day is a silent slave to the enigmatic Lulu, a songstress turned corporate power-broker. But is it Paulie's apartment? And there's the ultimate question: is God the Pizza Boy? An obvious riff on Waiting for Godot, this play explores new levels of wasting time and potential in a wasteland of shifting identities. (80 Minutes, 4 Male, 1 Female)


2011 Summer Play Festival at The Road Theater in Los Angeles, directed by Judy Weldon.
---
7 MINUTES TO MIDNIGHT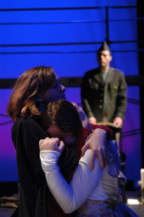 Are you ready for that great atomic power? On July 16, 1945, the Trinity test in New Mexico awakens the Greek God Kronos (otherwise known as Saturn). After killing his father and devouring his own children, he was banished to the underworld by his son Zeus and is just waiting for the end of the world which will set him free. The dawning of the atomic age means the time draws nigh. Using text, movement and music, this ensemble-based play weaves together several stories from 1945 to now, showing Oppenheimer and other members of The Bulletin of Atomic Scientists as they try to warn the military and others about the impending cold war and the arms race. It examines the "nuclear" family of the 1950s, the fear of the 1980s, and how millions grew up under the shadow of a mushroom cloud. The clock is ticking for us all. (70 Minutes, 4 Male, 4 Female or more)
Produced and developed with the student ensemble at Bellevue College, Bellevue, WA, October, 2008. Kennedy Center Mark Cohen Award Regional Selection, 2009.
(Read the
script
)
---
GREEN EYED MONSTER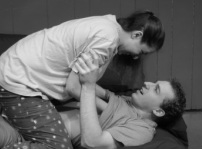 A wife confronts a deep, dark secret about her husband's sexual fantasy with an unusual object of affection: Ms. Piggy. This is the play where the infamous "Miss Piggy" audition monologue originated.
(15 Minutes, 1 Male, 1 Female)
Semi-Finalist Turnip Theater's 11th Annual 15-Minute Play Festival, NYC, 2005; Produced by Brass Tacks Theater Company, NY (2001), Brüka Theater, NV (2004).
To get the "Miss Piggy" monologue and other fabulous audition pieces, check out the
Monologues from the Last Frontier Theatre Conference
, published in 2013.
---
THE ALBATROSS
David is an award-winning poet and teacher at a small private university. He has a great academic job and a golfing buddy in his colleague Mark, a recent divorcee. But underneath his polished lectures about "life as an artist", he hides a secret pain, the suicide of his wife five years ago, a pain numbed through alcohol. He is violently shaken out of this numbness by Sofia, one of his eccentric students. A reactionary response to one of her poems begins a chain of events that will eventually cause David to drown under the watery weight of the past. He becomes a mentor to Sofia, recognizing her amazing talent yet also wary of it. There's something else about her that he won't talk about it, can't talk about, and it's this denial that will eventually cause his downfall. (90 MINUTES, 3 Male, 1 Female)

WINNER John Gassner New Play Award, 2009; Reading Portland Theatre Works, 2008; Reading Northwest Playwrights Alliance, 2008

OBSCURA
What happens to love when it is forgotten? Is love a choice? Is memory? Annie wakes up in a hospital bed after surviving a deadly car crash with two men standing over her. One of them is possibly her husband the other is her lover, but which is which? The effects of her amnesia play tricks on her mind and her reality as she tries to piece together who she is now and who she was before the accident occurred. Obscura propels us into the mysteries of identity and love through a series of flashbacks and flash forwards built on the confused memories of this central character. An estimated 5.3 million Americans live with a disability related to traumatic brain injuries. Annie's journey is just a hazy reflection of many of these untold stories. (90 Minutes, 2 Male, 2 Female)

WINNER SETC Charles Getchell New Play Award; National Finalist KCACTF David Mark Cohen Award, 2006; Princess Grace Award semi-finalist, 2006
Produced at Adams Stage College, 2009, Staged reading Terra Nova Theatre, 2012.